Protect Yourself with Laguna Hills Water Damage Restoration Services
11/23/2014 (Permalink)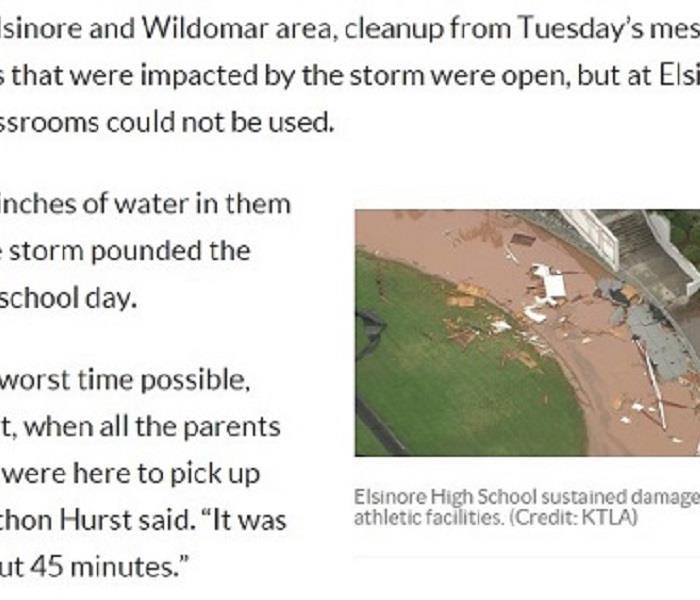 Protect Yourself with Laguna Hills Water Damage Restoration Services
It's a scene you often see played out in movies. Bring on the old abandoned house, cue a couple of curious kids with flashlights, and suddenly it happens—one of them falls through the floorboards. It's a scene designed to elicit a horrified reaction from the audience, and it works perfectly. After all, who would want to see an actual person endure such misfortune? While you may think that such a scene only happens in movies, it's a reality that many people face after their house suffers immense water damage.
Recently, the Inland Empire suffered massive flooding due to heavy rains and strong winds spun off by a Pacific hurricane. Suffice to say, many wooden floorboards suffered, one of which was the gym of Elsinore High School in Wildomar.
Some rooms had several inches of water in them Tuesday afternoon as the storm pounded the campus at the end of the school day.
"It definitely came at the worst time possible, when all the kids were out, when all the parents were here, and the buses were here to pick up students," Principal Jonathon Hurst said. "It was definitely chaotic for about 45 minutes."
The school's wooden gym floor was inundated, but Hurst said the facility was fine by Wednesday. The roof was blown off a dugout on the ball field, which was left a muddy mess.
Structural inspection is necessary
Structural damage is one of the most dangerous risks people have to endure when flooding hits their property. That's why it's imperative to have your home's structure checked by a Laguna Hills water damage restoration professional should you encounter flooding in your home.
It doesn't end there
Unfortunately, structural damage is not the only problem you have to contend with when flooding strikes. When water enters your home, its moisture content is dramatically increased, thereby allowing the growth of potentially dangerous mold. When mold exists in your home, it can actually make you physically sick. Symptoms range from mild (e.g. coughing, eye irritation, and nasal stuffiness) to severe (e.g. lung infections and obstructive lung disease). You can easily identify the presence of mold by its musky and earthy odor.
Don't let water damage problems linger
Water damage sometimes cannot be avoided, so it is important for you to take the necessary steps to ensure it is addressed at once. If you suspect structural damage or mold growth in your home, you might want to contact a professional that restores water and fire damage in Laguna Hills, CA immediately.
(Source: Flash Flood Watch Canceled for IE; Cleanup Continues From Storm, KTLA, Sep. 17, 2014)