SERVPRO Can Save Your Documents
6/15/2022 (Permalink)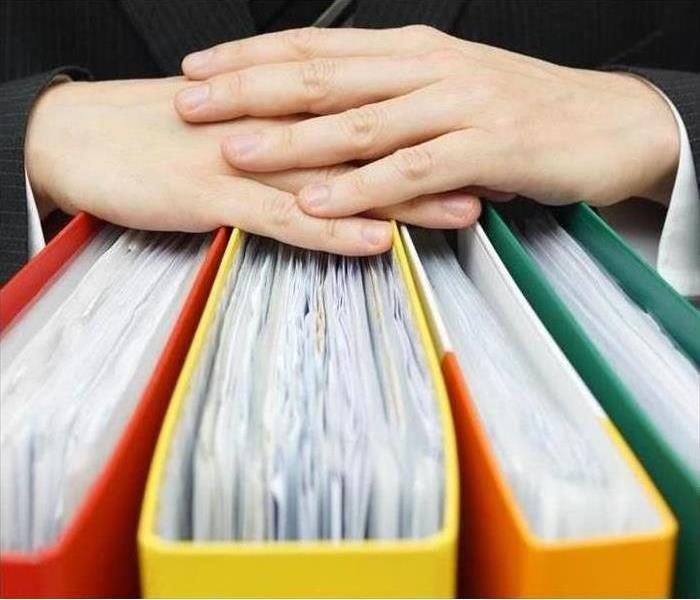 Laguna Hills got its name because of its proximity to the famed Laguna Beach. Just a stone's throw away from the shore line, Laguna Hills is popular among tourists and California residents alike. Its close proximity, however, also means that it gets more than its fair share of rainfall every now and then. When this happens, one of the things that most home and business owners around this area will need to deal with is damage brought about by strong rainfall.
There are many ways by which water damage restoration can be dealt with, be it air drying, dehumidifying, or vacuum-freeze drying. Choosing which water damage restoration technique to use will often depend on what kind of material was damaged in the first place.
Documents, Paper and Books
If your document has been damaged by brackish water, the first thing that you need to do is rinse it with cold, clean water. If you are dealing with onion skin, vellum, or other kinds of fragile paper, it is recommended that you lay them out on a flat surface and spray the documents with clean water until the dirt has been washed off. Make sure that you do not expose them to direct sunlight as this could cause wrinkling in the paper.
Once you have laid out all the paper, use an oscillating fan in order to speed up the drying process. Make sure you do not direct the airflow towards the document itself. Instead, allow the fan to dry the room which, in turn, will dry the documents.
If you are dealing with water-logged books, you should do inter-leaving or putting absorbent paper in between leaves. If the book has already developed a moldy smell, you might need to use an ozone gas chamber to deodorize safely the document. This is the same processed used in restoring documents that have been through fire damage.
Water Damaged Photos
Water-damaged photos should be attended to as soon as possible. Keep in mind that waiting for more than 48 hours before working on the photographs can result in growth of mold and mildew, which could damage your pictures.
If the photos are still contained inside a picture frame, do not try to separate the picture from the glass. What you can do instead is place it under running water until the picture can be retrieved.. The same is done if you have two pictures stuck together. Take great care not to touch the printed side of a photograph, as this could result in smudges.
Call SERVPRO of Laguna Hills/Laguna Niguel at (949) 472-8090